Iron men.
Ironman
began in 1964 in Australia and combines the four main disciplines of surf lifesaving (swimming, board paddling, ski paddling and running) into one gruelling race. Not to be confused with
Ironman Triathalon,
it's run as a single event as a part of a surf life saving carnival and sometimes as a sport in its own right. Internationally it's sometimes called
Oceanman
.
The Coolangatta Gold
is an ultra-endurance 41.8 kilometre marathon from
Surfer's Paradise
to
Coolangatta
and back. It's the toughest
Ironman
race there is, and one of the toughest in world sport.
︎
︎
︎
︎
Caine Eckstein.

Eckstein is a world class, multi sport endurance athlete. With five Coolangatta Gold titles to his name and a reputation as someone who likes to suffer when racing and training, he can push himself through the pain barrier like few others.

Caine and Ali Day are the only 2 Ironmen to have won the The Coolangatta Gold five times.

In 2014, Eckstein broke the Guinness World Record for most pull-ups in 24 hours, completing 4,210 pull-ups. After losing the record in 2016 he regained it after completing 7,620.

Eckstein's insane 7,620 pullups in 24 hours equates to about 317.5 pullups an hour. That's 5.29 pullups a minute. Since he broke the record with 45 minutes to spare his exact rate was actually 329.15 pullups per hour, and nearly 5.5 pullups per minute.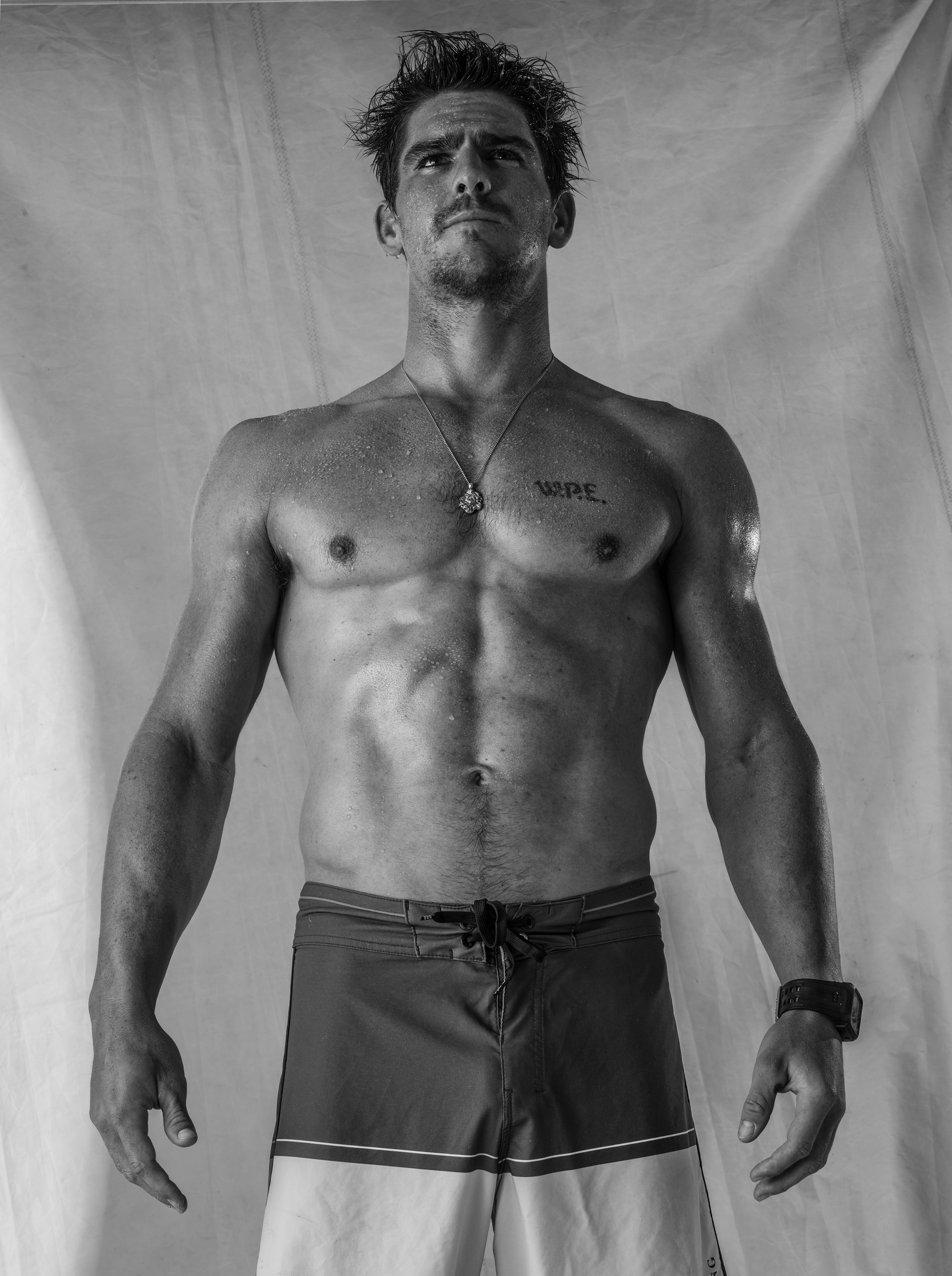 Ky Hurst.

In many experts opinions Ky Hurst is the greatest surf swimmer the sport of Surf Lifesaving has ever produced.

Born in 1981 Ky is both swimmer and Ironman. He competed at the 2008 Summer Olympics in the 10km marathon swimming event finishing in 11th place, after qualifying by finishing fifth at the 2008 FINA World Open Water Swimming Championship and won a silver medal at the 1998 World Aquatics Championships in the 5km Open Water swimming event. He was selected for the 2012 London Olympics after placing fifth at the 2011 World Open Water Swimming Championships. During 2012 he pursued both swimming and Ironman racing, the latter he competed in with great success.

Hurst has won four Australian Ironman titles, and is a member of the Surf Life Saving Australia Hall of Fame. After the 2014 Australian Surf Lifesaving Championships, Hurst won his tenth Open Men's Surf title from eleven starts. As of 2014 Hurst held the record for the most open age individual titles at the Australian Surf Lifesaving titles at 14, including his ten surf and four ironman titles.

Hurst left Ironman & swimming & in 2017, moved to Bermuda to take up pro-sailing. He's now a grinder for the America's Cup Challenge, Oracle Team USA in their campaign for the 35th America's Cup.

A grinder is a crew member on a yacht whose duties include operating manual winches (called "coffee grinders") that raise and trim the sails and move the boom. It is a physically demanding role with a significant impact on a racing yacht's overall performance.

Previously a non sailor, he now holds the grinding record for the US team, able to generate 300 watts of power for 20 minutes at a time. Team New Zealand put bicycles on their America's Cup entry thinking that their cyclist' legs would provide more grunt than a traditional grinder's arms.

Team USA tested this theory in university trials in Utah and discovered that Hurst could put out more power through his arms than Team NZ could with bicycles.

Ali Day.

From 2012-2017 this guy totally dominated the challenging Coolangatta Gold winning every event he contested. In 2013 he became only the third competitor to win the event twice and went on to win it a total of five times to equal Caine Eckstein's record.


Matt Poole.

He won the Australian U-17 & U-19 Iron Man Titles, which heralded the beginning of his pro career. In 2012 he won a gold and 3 bronze medals at the World Surf Life Saving Competition & in 2017 he won the Australian Kelloggs Nutri-Grain Ironman Series.
Shannon Eckstein.

Widely regarded as Australia's greatest ever Ironman, he's won five World Ironman titles (his first at 18), the Kellogg's Ironman Series an unmatched eight times and six Australian Ironman titles as well as over 30 Australian gold medals.

During the board leg of his 2014 bid to win his sixth World Ironman, he tore his bicep and was forced to withdraw.

The Coolangatta Gold remains the one title missing from Eckstein's bulging trophy cabinet. His younger brother Caine dominates the event, winning it five times.